News
President Trump responded aggressively to Syrian
chemical attack — but remains passive
USPA NEWS - Gruesome photos of children killed in a chemical attack moved President Trump to order a retaliatory missile strike against the Syrian government on Thursday — but the commander in chief has remained conspicuously passive when similarly heartbreaking photos of Syrian children.
He kept conspicuously mum when the world beheld in shock the distressing photos of Alan Kurdi, a 3-year-old Syrian boy, washed up dead on a Turkish beach after fleeing his war-torn home country in September 2015.

Instead, Trump, fresh off a presidential bid announcement, spent his time accusing Muslims of harboring "great hatred towards Americans" and calling for a "total and complete shutdown of Muslims entering the United States.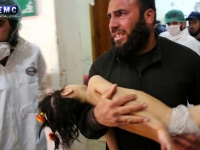 Then, as President Assad became a target of international scorn after it became clear on Wednesday that his government carried out a chemical attack that left dozens of civilian children dead, Trump finally responded — forcefully. "Tonight, I ordered a targeted military strike on the airfield in Syria from where the chemical attack was launched," he told reporters at his Mar-a-Lago estate, eventually adding, "We pray for the lives of the wounded and the souls of those who have passed."
Liability for this article lies with the author, who also holds the copyright. Editorial content from USPA may be quoted on other websites as long as the quote comprises no more than 5% of the entire text, is marked as such and the source is named (via hyperlink).
| | |
| --- | --- |
| | Daren Frankish |
| | RAHMA-SOPHIA RACHDI |
| | Ruby BIRD |
| | Yasmina BEDDOU |
| | Aurangzeb Akbar |